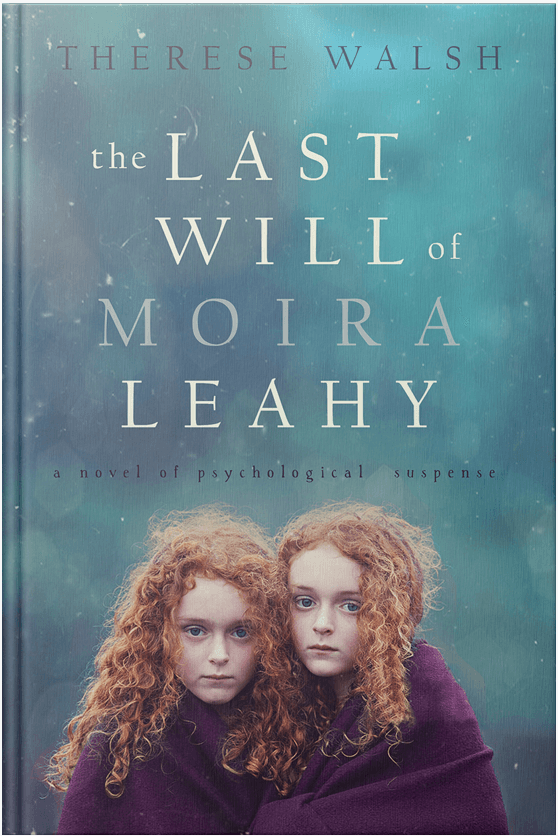 Maeve Leahy is a busy professor of languages at a university in upstate New York. So busy that she leaves little time for memories—the memory of her lost twin, Moira, and of her many lost opportunities. Until a childhood relic and a series of anonymous notes changes everything—resurrects her long-dead dreams, a lost language, her most painful recollections, and prompts her to cross an ocean in search of ancient history. There, Maeve will learn new truths about her past, and come face to face with the one thing she truly fears. Only then can she choose between the safe yet lonely life she's built for herself and one of risk, with bonds she knows can be both heart-breakingly delicate and more enduring than time.
Praise for The Last Will of Moira Leahy
Walsh's debut seamlessly weaves together past and present. This tender tale of sisterhood, self-discovery, and forgiveness will captivate fans of contemporary women's fiction." – Library Journal Walsh's debut is a magical, involving journey, one that mixes a compelling mystery from the past with a suspenseful search in the present." – Booklist
Walsh's satisfying novel follows Maeve Leahy, a brilliant young professor, in her pursuit for answers about her family and herself. [She] ably shifts between Maeve's current quest and flashbacks showing the twins as children, revealing little by little the story behind Maeve's grief. . . . [A] pleasing blend of mystery, romance and the supernatural." – Publishers Weekly
Moira's confused emotions-envy, guilt, passion and regret as she deceives the boy she loves and usurps her sister's place- are delineated with heart-wrenching believability." – Kirkus Reviews
A well-told and very entertaining read . . . [a] unique story by a very promising writer." – Sacramento Book Review
One of the really delicious things about Therese Walsh's debut novel is that it pushes through to new ground. And even while you are swept away in Walsh's carefully crafted and constructed story of magic and acceptance and loss, you are aware that you've never traveled this way before… It is difficult — impossible — to capture that magic in these few words. Nor is it possible to compare it to anything else: Walsh has found her way here alone. The Last Will of Moira Leahy is a wonderful book. Well crafted, beautifully told. A star is born." – January Magazine
Therese Walsh's fascinating novel of psychological suspense is suffused with the supernatural. (It's) an imaginative exploration of the bond between twins." -The Boston Globe
The Last Will of Moira Leahy is haunting, exotic and romantic—the way Gothic tales are romantic, wrapped in luscious, dark atmosphere. It's a magical debut and I can't wait for more from Therese Walsh. She's one to watch." – Sarah Addison Allen, New York Times bestselling author of Garden Spells
Is there anything more worthwhile than being taken by the hand by a true and gifted storyteller and shown a world that is at once mysterious, mesmerizing and filled with characters who deeply touch your heart? A dark psychological tale of secrets and betrayal, suspense and passion, The Last Will is a book that makes you forget everything and just spend the rest of the day and night reading. Like Rebecca, this is a tale so well told that it keeps you in its grip and doesn't let go, haunting you long after you've turned the last page. If it were written by a seasoned novelist, The Last Will would be a feat. That it is a debut makes it all the more amazing. Bravo!" – M.J. Rose, international bestseller, author of The Memorist
A hauntingly beautiful story about grief, the language of twins, and the healing power of a bond that is stronger than death. The characters of Moira and Maeve will linger long after you finish this amazing first novel." An original, intriguing tale about the ways that love can break us or bind us, and the triumph of the spirit that's possible only through letting go." – Therese Fowler, author of Z
Tender and transcendent, The Last Will of Moira Leahy is a captivating look at the truths we conceal, the scars we bear, and the journeys we all must take in order to find our way back home, back to ourselves. I loved every magical page." – Allison Winn Scotch, New York Times bestselling author of Time of My Life
This book made me want to ignore my work and neglect my children. The Last Will of Moira Leahy offers an irresistible combination of mystery, romance, psychological complexity, and lovely writing. I devoured it." – Leah Stewart, author of The Myth of You and Me
The Last Will of Moira Leahy by Therese Walsh is a richly conceived tale that weaves mystery, romance, adventure and self-discovery into one beautiful package. Moira's story from years before appears tucked in between Maeve's narrative in the present. The twins' inseparable bond is both a comfort and a burden to them as they learn to find their own talents. [A]ppropriate for book clubs with girls aged 15 and over. Highly recommended." – Cindy Hudson, author of Book by Book: The Complete Guide to Creating Mother-Daughter Book Clubs
Are you interested in book club materials?
In order to provide reading groups with the most informed and thought-provoking questions possible, it is necessary to reveal important aspects of the plot of this book—as well as the ending. If you have not finished reading The Last Will of Moira Leahy, we respectfully suggest that you may want to wait before reviewing this guide.
• Discussion Group Guide (PDF) for The Last Will of Moira Leahy »
• Author Q&A »